How to Name Projects On Your Interior Design Website
By Nicole Heymer | Jan 4 2022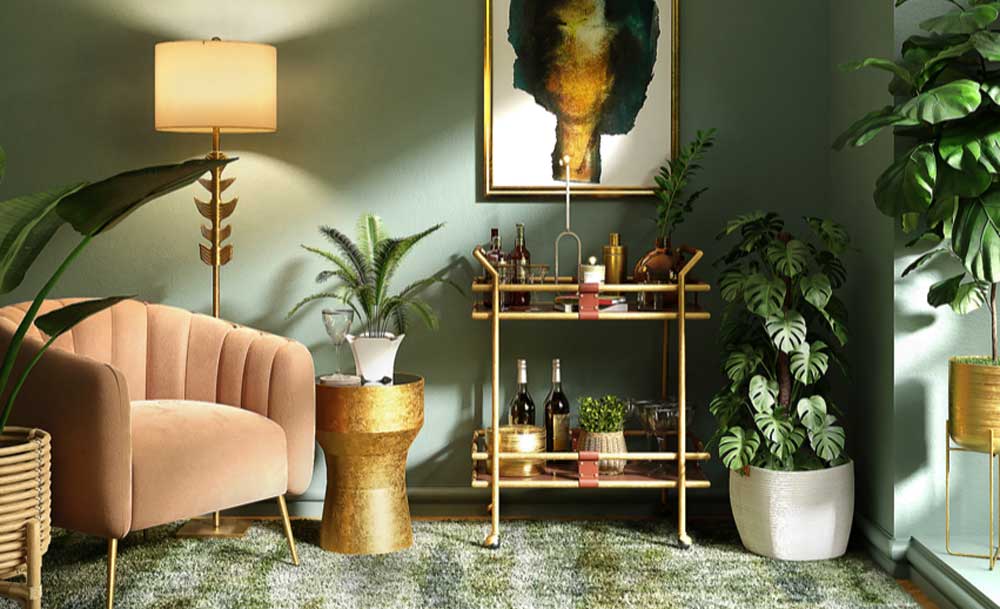 It's a question that comes up on almost every website build. How should you name your interior design projects?
Should you go with that old chestnut—street names? (Spoiler: No, you shouldn't. See below.)
Should you play it safe (and unmemorable) with descriptors like "Transitional Home" and "Traditional Residence"?
Let's discuss!
5 Considerations
Client Privacy
I'm so sorry to do this but: No street names.
But only because we also recommend putting the project's location on the page. And that much information—city + street name—is more than enough to violate your client's privacy.
No one likes that and, especially when you're working with clients who have a higher net worth…discretion should be part of what you're offering.
(Why do we recommend putting the project's location—city or general region only—on the project page? Two reasons: Search engine optimization and to signal to humans…"Look! We work in your area!")
Variety
Every project name should be different. Chances are, you're on board with this.
But why is it a must?
Not because someone is paying attention (they really aren't) but because potential clients may identify projects by name when speaking with you. Give them an easy way to do that.
Future-Proofing
There just aren't endless words for 'home' or 'residence'. The supply is finite.
So if you start painting yourself into a corner with '(adjective) Residence' and '(other adjective) Home' structure…you'll run out of options quickly. Stay loose. Give yourself room to play in the future.
Brevity
Sure, they should be short…because almost everything on the internet is made for quick, easy consumption. But this is also for looks—the page will be prettier with fewer words.
(And yes, there's a part of me that wants to see a portfolio stacked with poetic, lengthy titles like that one album Fiona Apple put out in the late 90s…but you would need a very specific kind of brand for that.)
Originality (to a Point)
Do you need to crack the internet wiiiiide open with your project names? Do you need to make a splash with your naming conventions? No, my friend. Thankfully, you do not.
But this IS a branding opportunity. You can choose to get a little bit rock 'n roll with your tone—or nostalgic or romantic or whatever you like. Because, as we'll discuss below, you actually have complete goshdarn freedom when naming your projects.
6 Possible Structures
FOCUS ON: STYLE
Yes, you can start with style as your jumping-off point, but keep it loose.
Linda at LW Interiors has a deep well of love and knowledge when it comes to the historical aspect of design—and it shows in her project names.
The style of the home itself pops up…but not always! As mentioned above, keep your naming convention loose to give the portfolio room to grow.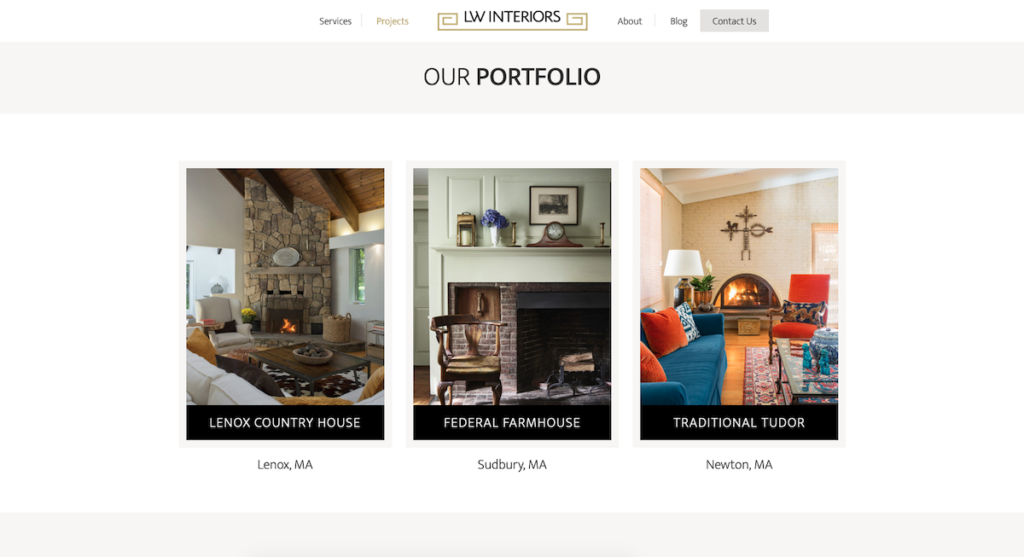 On the Fuller Interiors portfolio, the Fuller team includes project names like 'Haute Historical'—mixing things up by leaving out the obligatory noun (residence, house, etc.).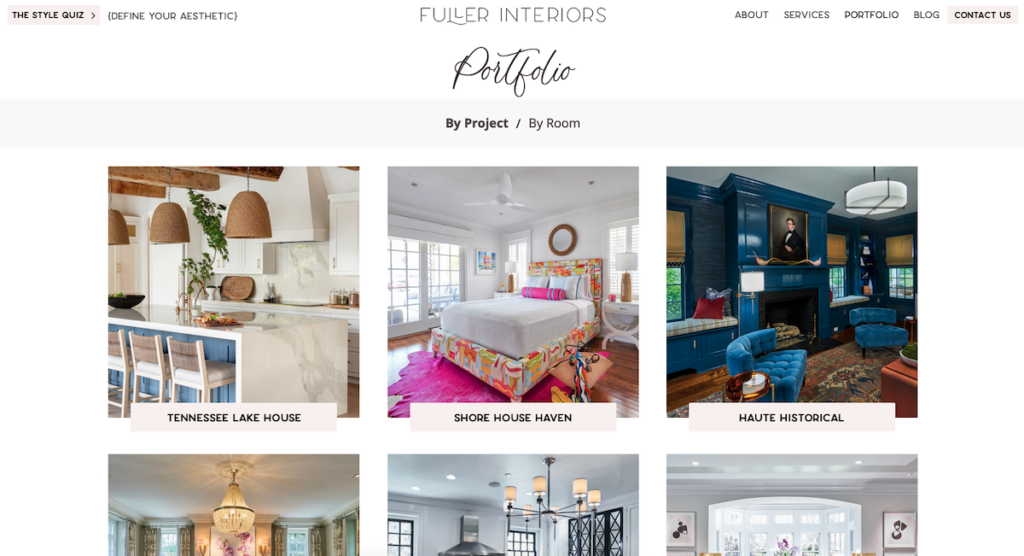 FOCUS ON: COLOR
Claire Jefford loves color (or, as she and her fellow Canadians say, colour) and that messaging is all over the brand.
Her Youtube channel and blog are full of educational videos on paint colors, viewers can purchase 'Perfect Colour Palettes' to DIY their paint plan, and the project names on her portfolio of full-service design work are an ode to color.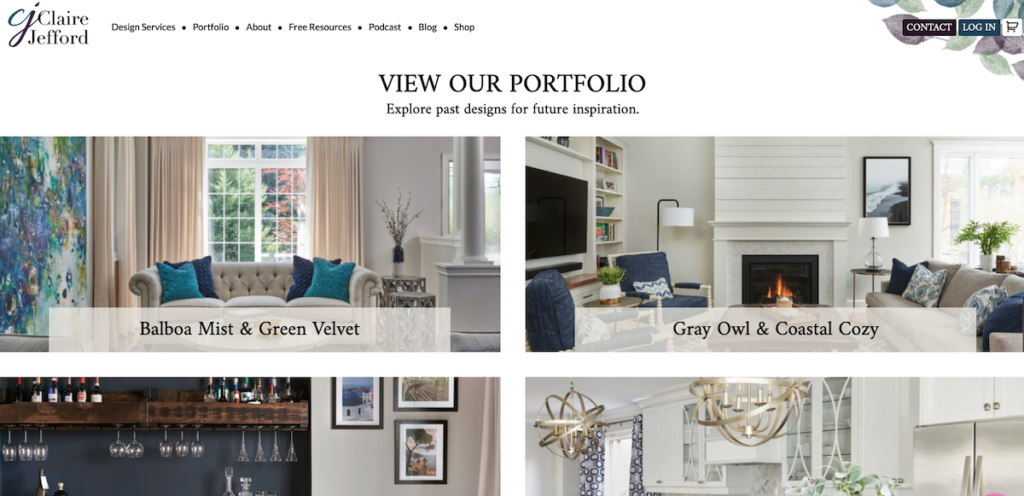 FOCUS ON: FEELING
How does each space make the client feel? What was the goal—moodwise? If the emotional aspect of design is a focus for your firm, this angle might be an elegant solution.
Jenn O'Brien Interiors has a portfolio with project names that achieve two things nicely—a distinct, light brand voice and a description of a feeling.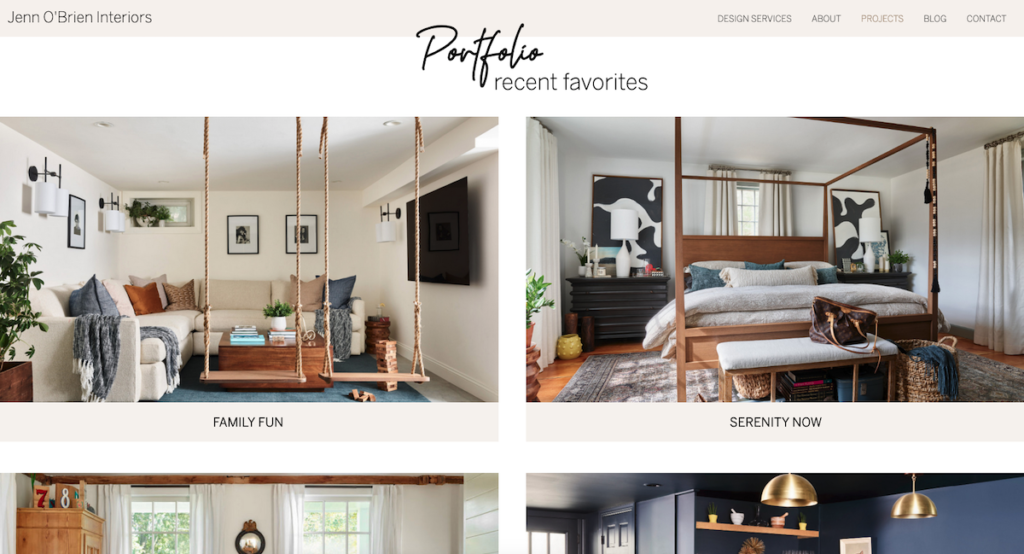 The project names for Karin Eckerson Interiors are varied and unique—with a mix of feeling-focused names ("Tailored Calm" and "A Place to Talk") and style-focused names. A good example of what happens when you feel free to keep it loose and vary your approach.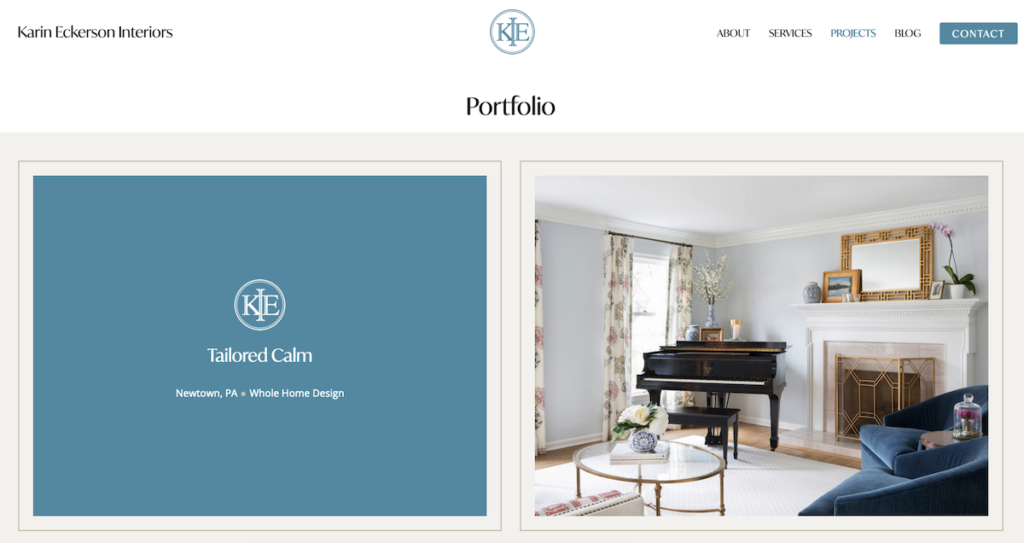 FOCUS ON: A DETAIL
If you're looking for total creative license and a sense of variety, choose a single detail from each project and use that as your inspiration.
For Liepold Design Group, the project names focus on individual elements from each—from the art to the home's history to durability. All elements are fair game and that creates a lot of interesting opportunities for project names.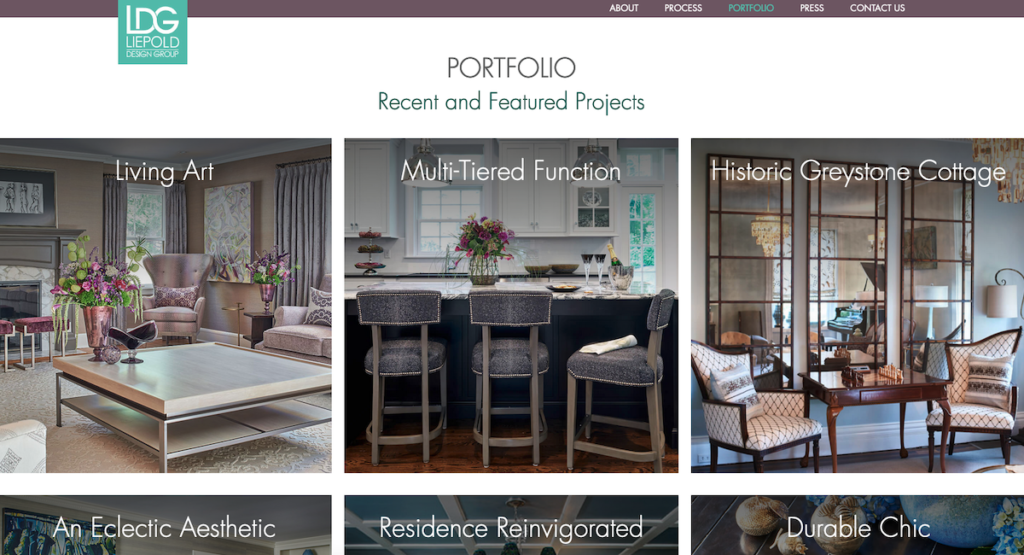 FOCUS ON: THE NUMBERS
If the goal is to identify each project, you don't need to use words. You could use numbers, letters, or even symbols.
HB Design is a French Canadian design firm with an elegant, clean aesthetic—and her project names are perfectly aligned with that approach. Just simple, beautiful, and brief.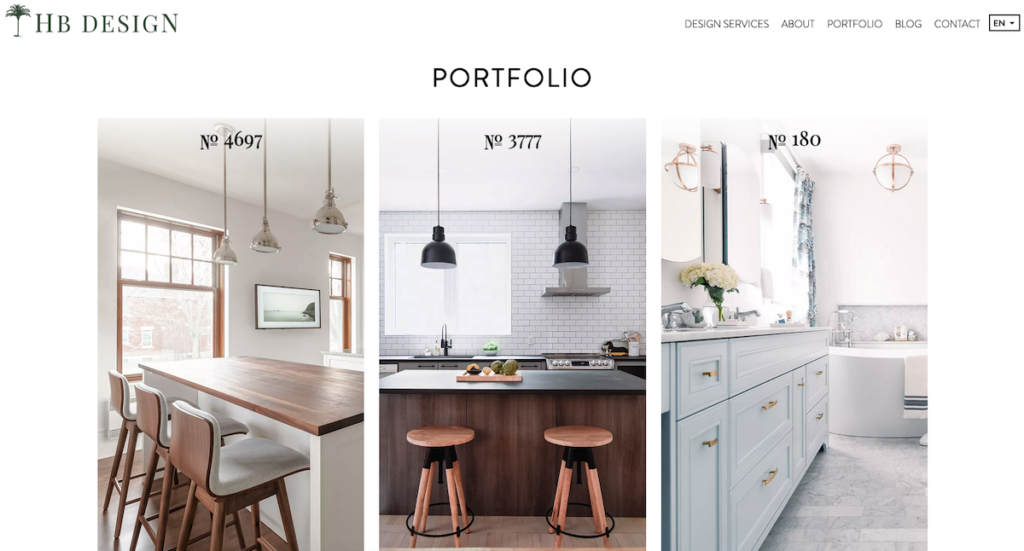 FOCUS ON: THING + THING
Feel free to get a bit artistic or abstract with the structure.
Juliette Calaf Interiors keeps it interesting with a mix of phrasing throughout their portfolio. It's as light, bright, and unique as her work.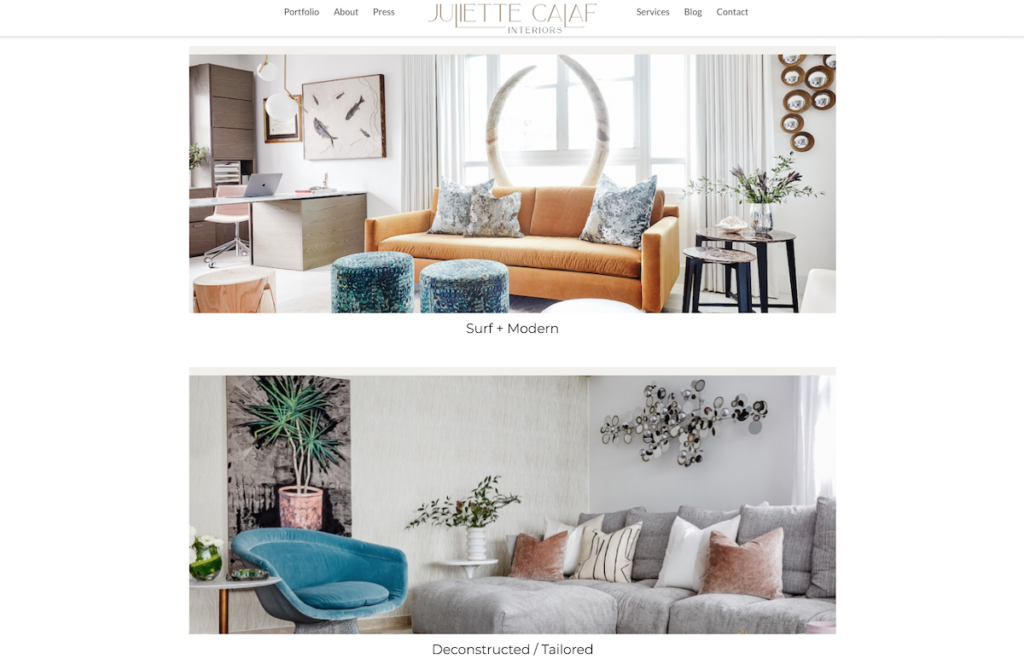 Your interior design project names speak in the tone of your brand.
They can be casual or formal, fun or serious, flowery or streamlined. Enjoy the process—and try to see them through the eyes of the most important audience—your potential client.
Ready for a fresh website and online portfolio?
We love building websites for interior designers and we've got options. Book a chat to learn more.