Behind the Scenes: A Conversation with an Interior Photographer
By Nicole Heymer | Aug 20 2014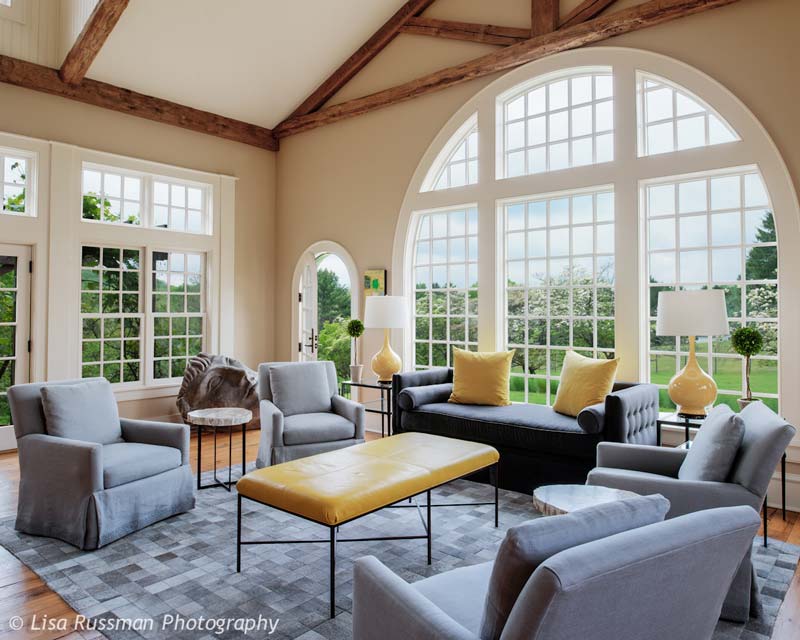 Lisa Russman is an architectural and interior photographer based in the greater NYC area.
She shoots both residential and commercial spaces, creating images that capture the unique angles, textures and light of a specific space. After working with Lisa's photographs on two different websites, I've become a fan of her style. I was also curious about a few aspects of her business.
Let's start with a basic question. Why hire a professional photographer for interior shots?
Whether you are a designer, architect, or owner of a commercial space, the environment you want shot reflects your unique vision and this needs to translate into compelling, inviting images that showcase key elements of the space.
The right professional will understand how to compose the shot and arrange the space, working with furniture and decorative items. Choosing the right lens, working with existing natural light and understanding how to fold in additional lighting, along with knowing what tools to use to shape light, balancing color temperatures, and so forth, will make all the difference.
Finally, you want to work with a professional because they have insurance, handle permissions and releases, will be respectful and cooperative in residences or places of work, and will deliver your images on time and to your satisfaction.
What three questions should an interior designer ask a prospective interior photographer?
Like any other creative field, photographers have different visual styles and bring different skill sets to the table. So the first question to ask is, what is the photographer's stylistic approach and does it match mine? It's important to feel like you share a similar sensibility, and that the photographer understands the project.
I'd also ask about skills and experience specific to architectural and interior photography. It's a specialization, so I'd want to hear about the photographer's technical approach, equipment and types of assignments he or she has had.
Finally, I'd make sure the photographer is someone you can ask questions of, at any step of the process. He or she should be a good communicator. Did they take the time to explain and talk over the estimate, the rights and the license, or any other aspects of the job? Are they flexible with scheduling and potential weather delays?
Please talk about light. Do you use natural light? Take photos at a certain time of day? Bring lighting with you? What determines these decisions?
Light is a critical tool in creating drama and visual interest in an interior, and I use natural light as much as possible. I love diffused, soft light. Sometimes it is possible, with windows and excellent outdoor views, to shoot entirely without additional lighting, using a technique called HDR (High Dynamic Range). I use this in certain situations where I know the image will maintain a natural look.
Many other times, I determine how I will use the natural light available and slowly add in either needed general diffused lighting or small fill light, say on a dresser or cabinet. I begin with only natural light, and as I develop the shot, making composition considerations and adjusting the interior, each lighting addition is addressed and folded in.
Am I adding strobes or speedlights? Am I including any lamps, chandeliers, or high hats and how does this change the color and quality of the light? Are they on dimmers? What new shadows have I created? What light shaping tools should I use, like diffusers, grids and so forth, to shape the light?
What kind of camera do you use?
I have been using a Nikon D700 for several years, but recently got the new Nikon D810. I can't wait to work with it and see what new things it will allow me to do. It has video capabilities as well, and I am planning on working on some hybrid photography, which is the fusion of video and still – I think it could have interesting applications in interior and architectural photography. That and it's unlimited continuous shooting capabilities open up a lot of possibilities with time-lapse photography.
How long have you been doing this and what got you started?
I studied Art History in college while taking a lot of photography, both color and black and white film, using a 35mm SLR camera. You worked hard with that camera to get the elements right while taking the image – exposure, composition, contrast, lighting. That background has made me a better photographer. I also think having worked in a darkroom made my later career in digital photography better. With that kind of appreciation of how a picture develops, you really have a more purist outlook and you are a better shooter. I'm like that now – I want to make everything correct then and there- I don't want to rely on Photoshop to fix it if I can help it.
After college I had a career in arts communications, where I launched major museums, exhibitions, and cultural projects, so I worked closely with all kinds of designers, architects, and photographers. I have always been interested in interior design and decorative arts. When I got my first digital camera, I took many classes at the International Center of Photography, including workshops in interior photography. I had hit the nail on the head – it really pulled all my interests together.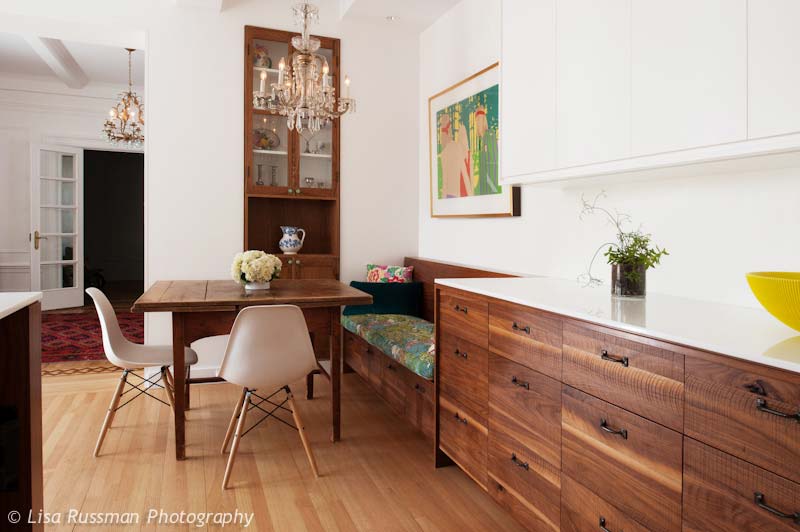 Do you get the urge to take photos of beautiful interiors even when you haven't been hired? Like…pretty restaurants? Are you automatically imagining how you would capture a room?
Yes. I do this all the time! I often feel that way in amazing hotel lobbies and public spaces.
Can you think of one piece of advice that you would give an interior designer who is looking to begin documenting their work?
My biggest word of advice is consistency. You want your web site to have a cohesive look, so you don't want some great pictures next to ones taken with your phone or the wrong lens. Less is more in this case. If it is too cost prohibitive to shoot all your projects, pick a few and get those onto your site. From a branding perspective, your potential clients will see a polished, professional web site.

To learn more about Lisa's services, find her at LisaRussman.com.