Websites for Interior Designers 2022: 11 Inspirational Examples (with Advice!)
By Nicole Heymer | Apr 30 2022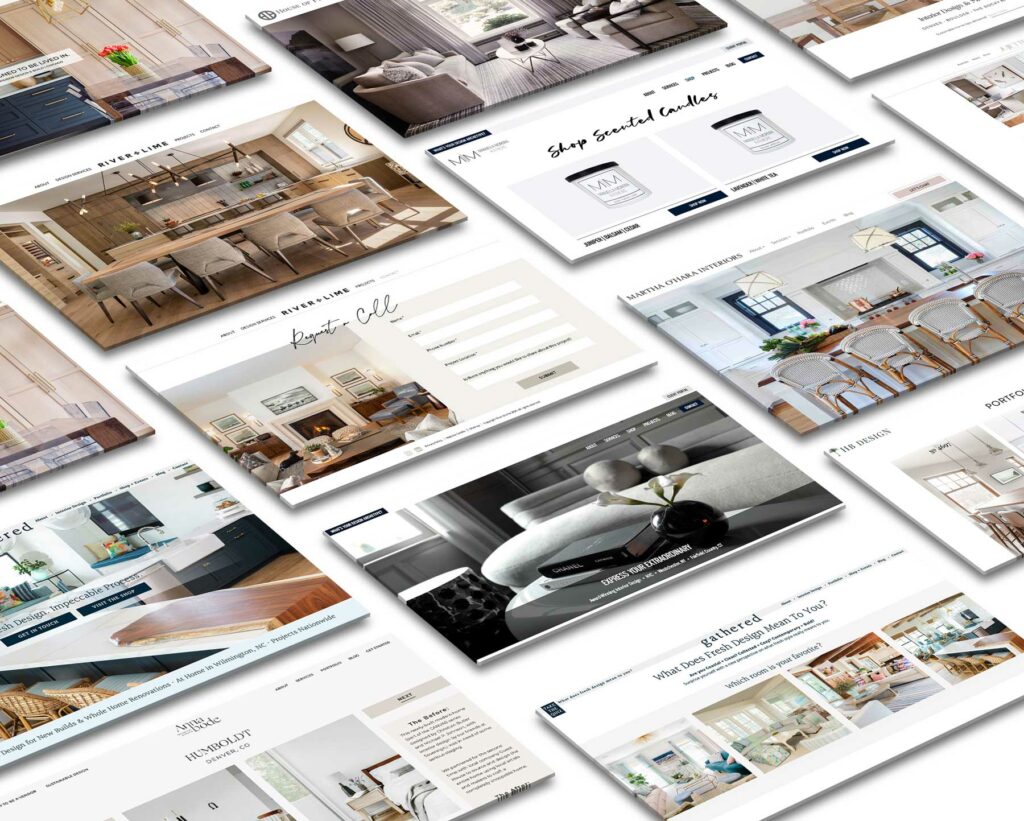 Websites for interior designers have evolved over the years—in the best possible ways.
On a well-built interior design website, it's all happening:
The images are big and beautiful, the inquiry process is smooth, and the pages load quickly. There are options to interact, to be educated, and sometimes to even make purchases.
When we started building websites for interior designers ten years ago…this wasn't all doable for a small or medium-sized firm. And it's just going to get better.
So the question is: Are you taking advantage of all of the possibilities on your interior design website? Let's discuss.
Website Advice:
#1: Dazzle potential design clients from the start.
If you can only afford one thing—professional photography or a professionally-built website—definitely prioritize the photos.
When we build a website for an interior designer, we're integrating a whole slew of elements (see below!) but none of it works without the pretty.
You don't need a huge portfolio, but the one you have must be well-lit, well-styled, and crisp.
Your portfolio isn't just a representation of your past work. It's a predictor of your future work—because it acts as a sales tool.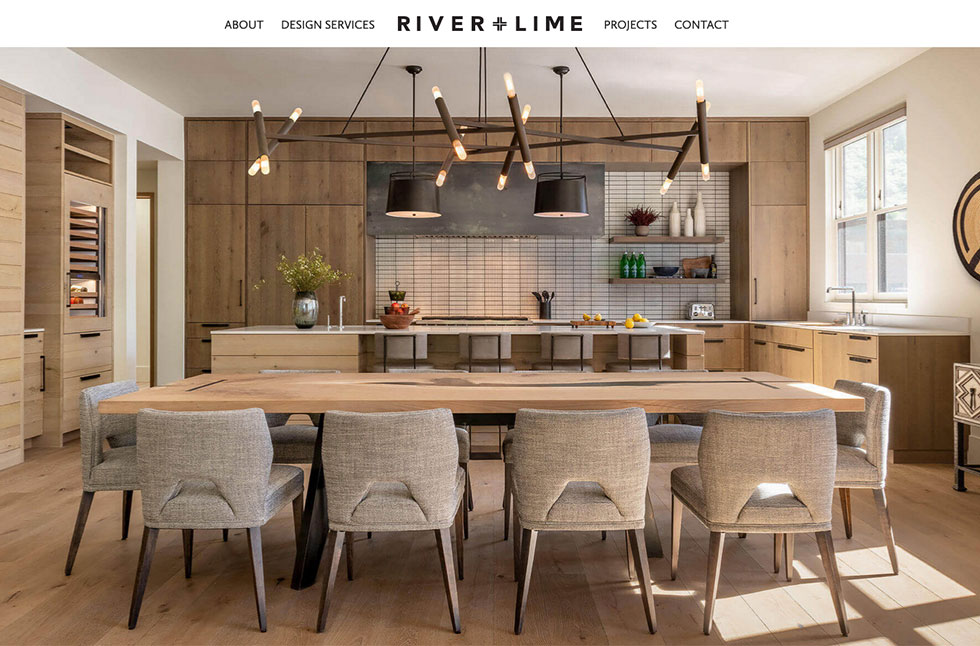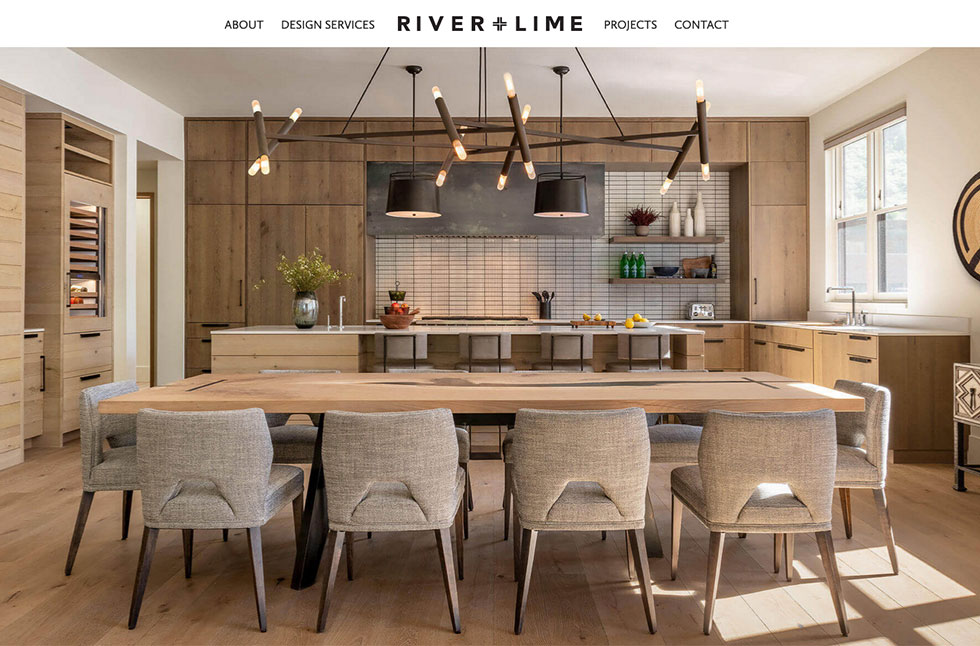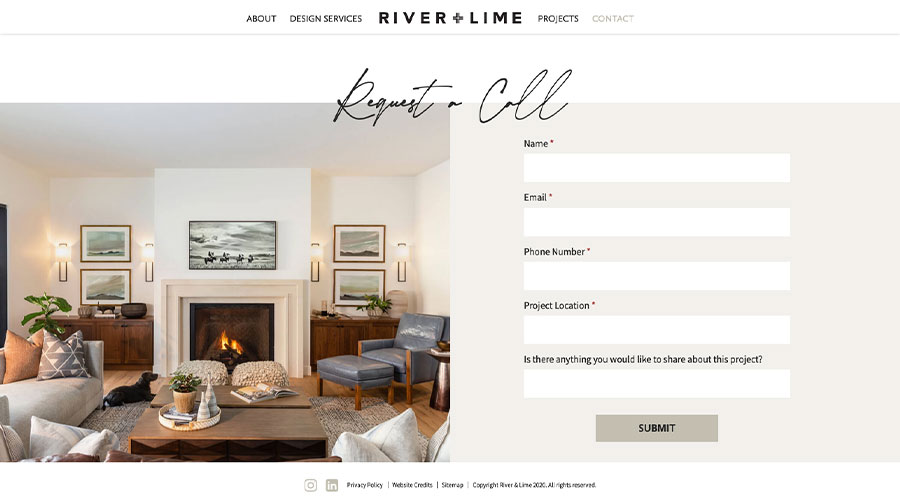 TIP:
Sometimes, if you use a theme in Squarespace or a similar platform, the big image at the top of the home page will be dulled or darkened to allow text to be visible on top of it. Just say no to that. Your images are the most compelling evidence—the thing that gets people to start dreaming. Don't dull them down or colorize them.
Your images should be large. Current web design for interior design firms—and your website should look current—is about big, clear photography. From the moment they hit the home page, show them what their future could look like.
See it on: River + Lime
#2: Brand everything.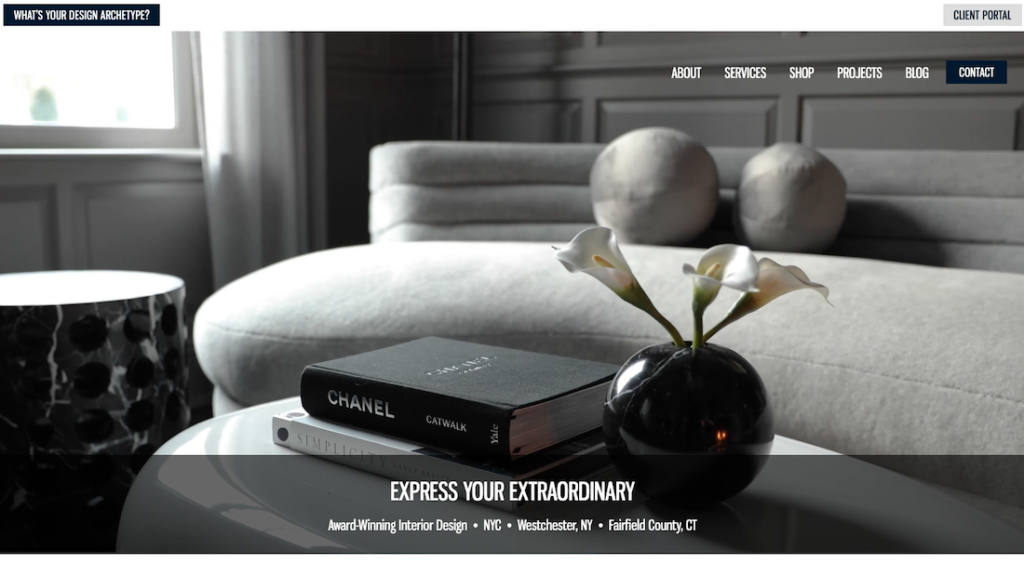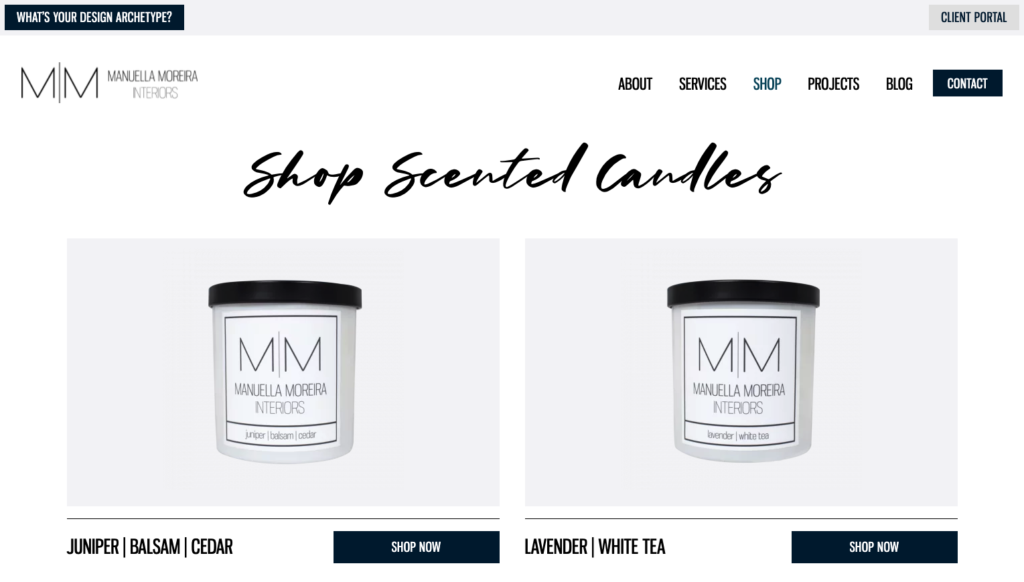 Once you choose elements for your visual branding—the fonts, color palette, the motifs—take them all the way.
Look for opportunities to make your brand visually recognizable and consistent: on every page of your website, on print material, in your email signature, on invoices, in automated emails, etc.
TIP:
Consider getting a Canva Pro account if your firm creates its own graphics. A pro account allows you to upload your own fonts—so you can keep the look perfectly consistent.
See it on: Manuella Moreira Interiors
#3: Tell them what to do.
Having a clear call to action isn't aggressive or sales-y.
It's polite.
When a potential client is ready to reach out, don't make them work hard. Include your main call to action—not rocket science, you're probably sending them to the contact page—on pretty much every page of the website.
And when they get to that fabled contact page, don't use a default contact form, with weirdly vague form fields like "Subject" and "Message". Ask them some easy but important questions.
Unless you're swimming in inquiries, keep budget questions off the contact form. Questions that feel too challenging will reduce your conversion rate.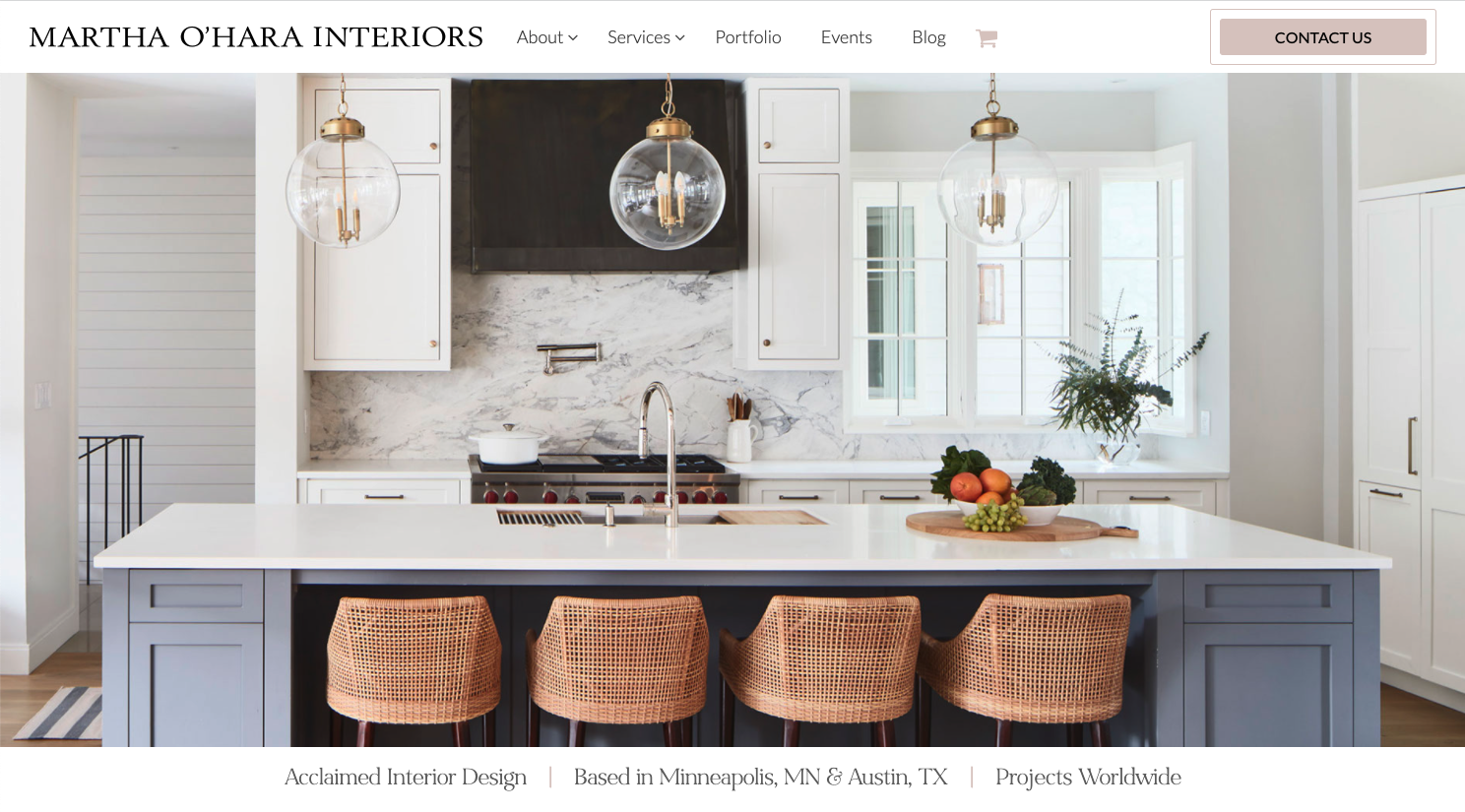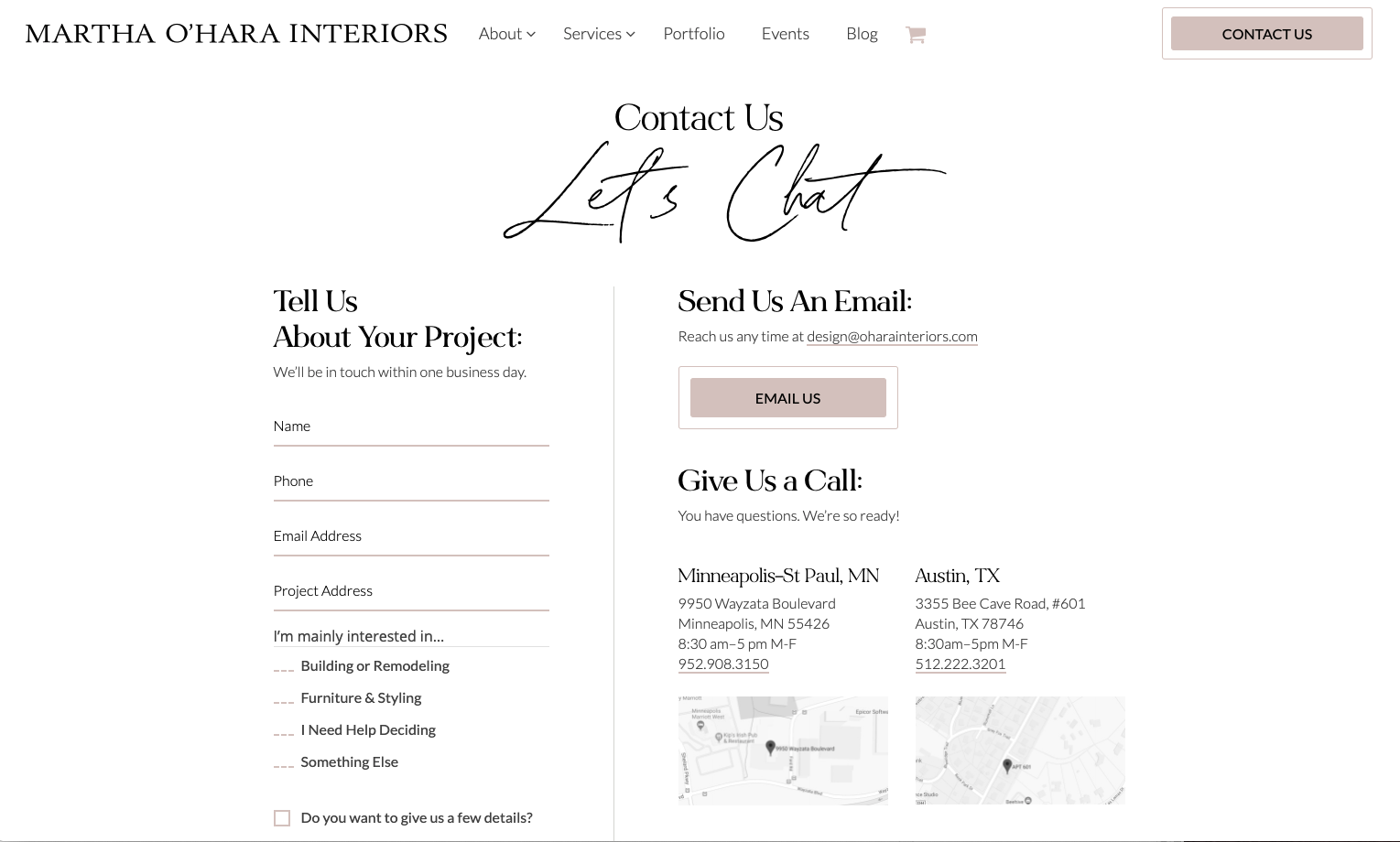 TIP:
Once they reach out to you, use automation or a confirmation page to tell them what happens next.
How long until they hear from someone? What happens after that? Once they hit the 'submit' button on the contact form, this information can come on a page they're redirected to or an automated follow-up email.
See it on: Martha O'Hara Interiors
#4: Make your interior design website interactive.
Email is key—a powerful tool that keeps you in front of potential, current, and past clients.
It's as simple as this: If they don't reach out the first time they visit your website (and 98% of them will not), email gives you another shot. Some clients will stay on your email list for weeks, months, or years before hiring your firm…but after that much nurturing, they're not even looking at your competition.
So what works now? What's the best lead magnet—the best bribe to get an email address from potential clients of all budgets (including those on the high end)?
Interactive content—a style quiz or anything else that allows the potential client to get a personalized experience.
Alternatively, you can offer the promise of good emails (if you do that, be specific about what they can expect…and be realistic about how many people will sign up), a tip sheet, information on pricing, a checklist to prep for their project, etc. Just keep in mind…
It's ALL an experiment. Put a lead magnet in place—a quiz, calculator, checklist, or whatever you like—and then track the results and adjust.
TIP:
Keep in mind that businesses that really go for it with email marketing will have multiple lead magnets over the years…but start with one:)
See it on: Gathered Group
#5: Decide what you want your interior design firm to be known for.
Clear is better than clever, as they say.
If you specialize in something—a style, a particular target client, a specific element of design, a certain room or type of home, etc.—then it needs to be said.
Or, actually—and this is the real trick—it needs to be demonstrated.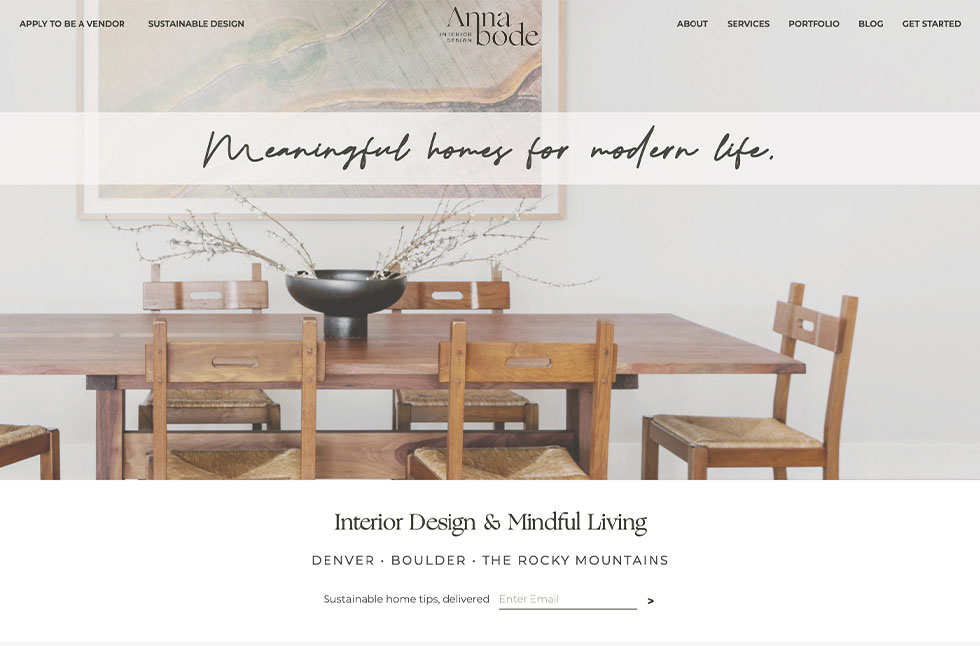 Yes, you can talk about your points of differentiation in your copywriting.
But you can also show them in your images, create content that demonstrates expertise, select testimonials that highlight them, and tell stories that make them real.
If you want to be known for something, it should show up—in overt and subtle ways—at every point where potential and current clients encounter your brand.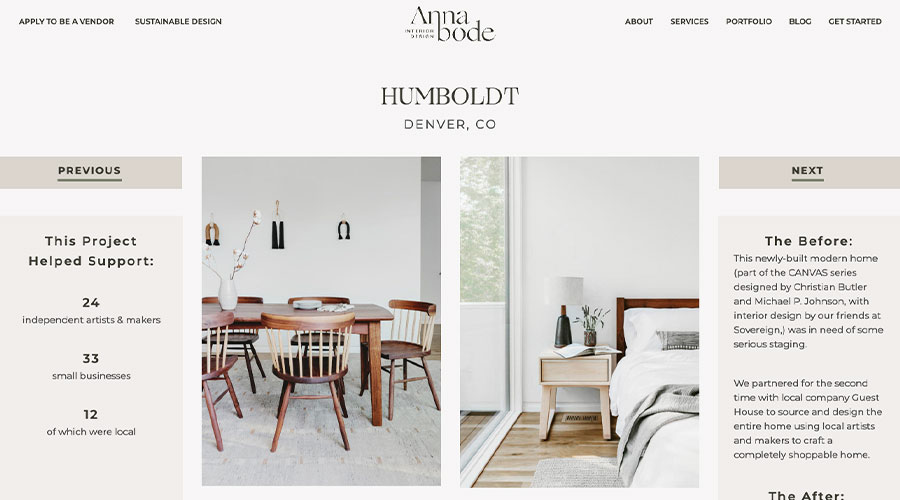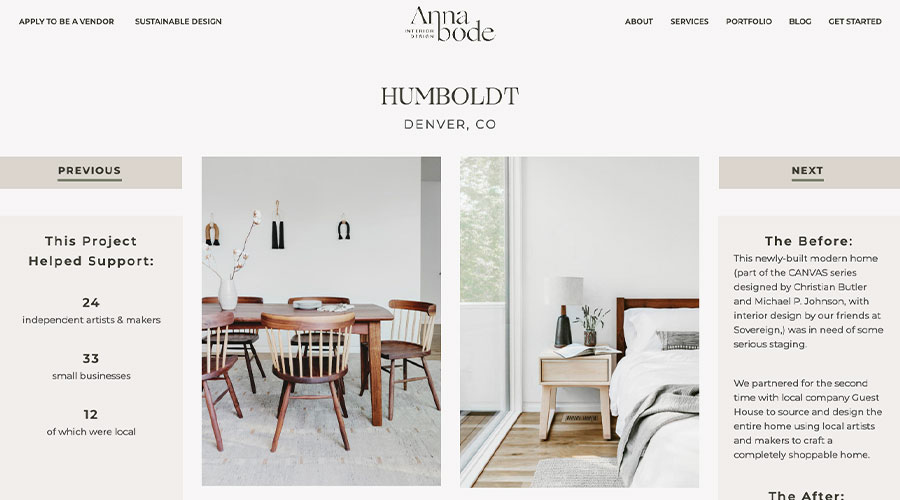 TIP:
Once you know what your messaging is and what you want to be known for, take a look at your processes. Is that special thing you do baked into your checklists and documentation? Make sure it is.
See it on: Annabode
#6: Show some humanity.
People hire people.
The "know, like, and trust" factor is real…and you want to start building rapport with potential clients long before anyone from your firm actually speaks with them.
How? By letting them get to know some humans. This starts with:
Headshots and other photos of the owner and, where applicable, other team members
Copywriting with a bit of personality
Video! If you can swing it, it is THE way to help people feel connected with you before you ever speak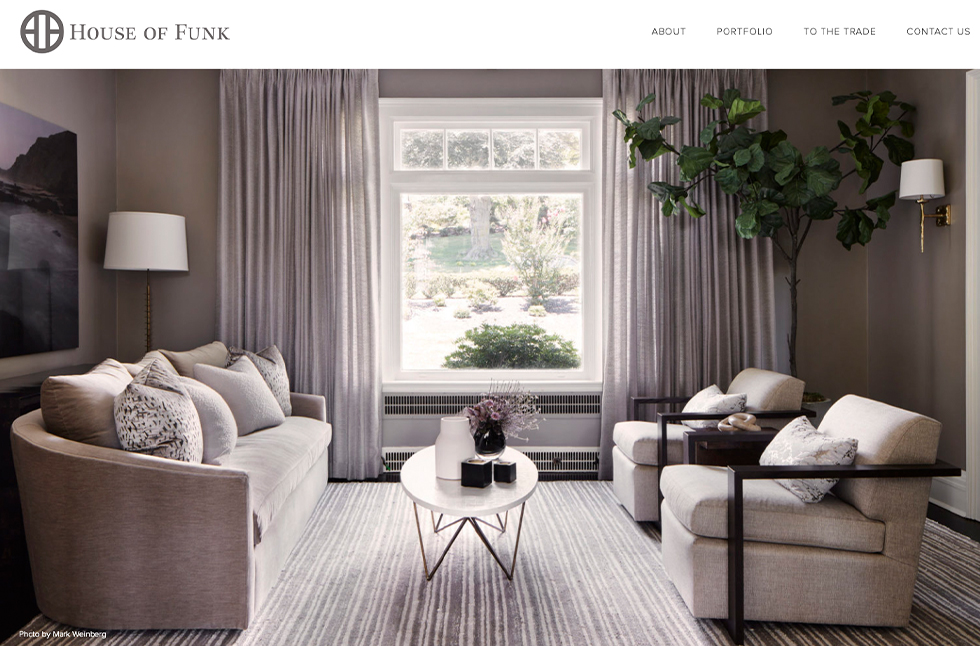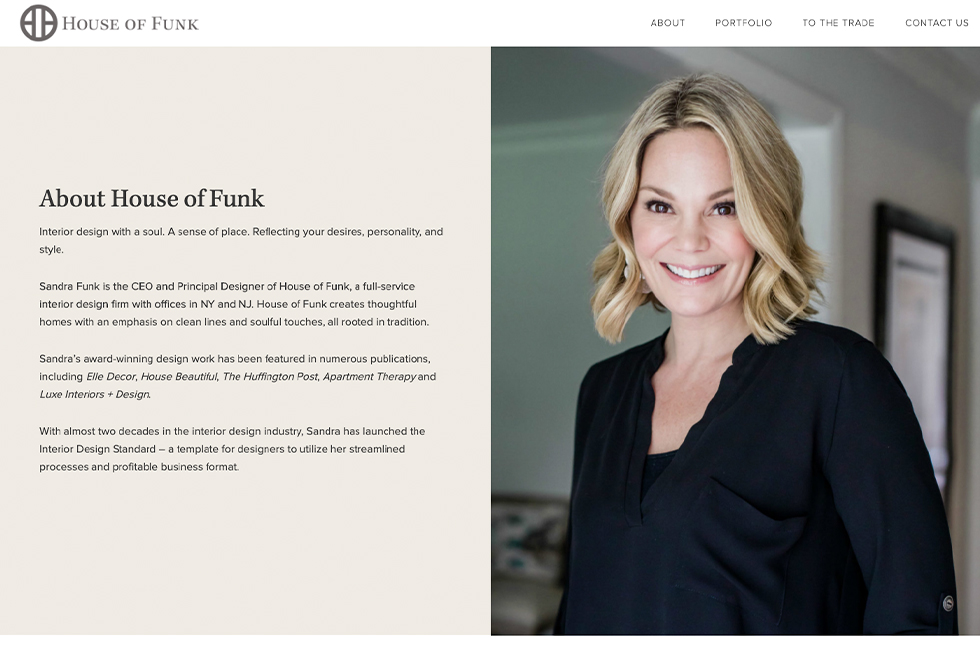 TIP:
If creating video is intimidating (and, at first, it really is), consider creating videos for a smaller audience—specific segments of your email list. You can informative welcome videos to new members of your email list, potential clients who inquire through your contact form, or current clients who are onboarding.
Find a way to introduce a human element and some personality into your website and brand. It will help you attract clients who are a better fit.
See it on: House of Funk
#7: Let your interior design clients speak for you.
On your website, you'll say nice things about your own firm. But when your clients say nice things about you…it carries more weight.
The power of testimonials and reviews cannot be overstated. Other people's words are powerful.
Think about your own search for contractors, vendors, and other service professionals. All you want to know is: "What will it REALLY be like if I hire them? Are they the right choice? Am I going to be happy????"
Client testimonials can answer those questions in a way that you can't. Online reviews will mean the difference between a call to you…or your competitor.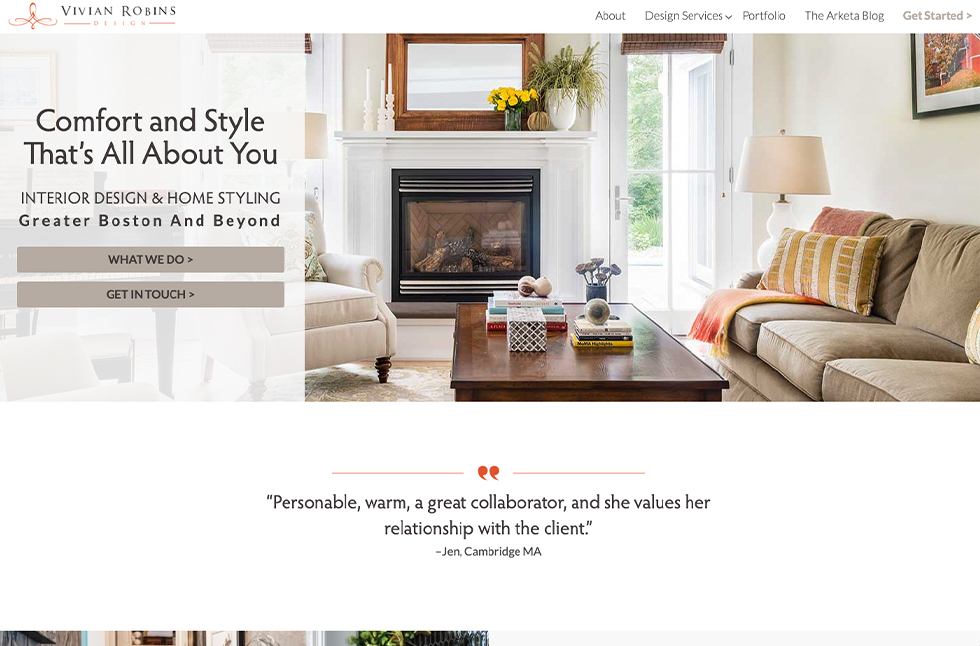 TIP:
Sprinkle testimonials liberally throughout your website. Instead of grouping them all on a 'testimonials' page, place them on pages that get more visitors.
Keep thm SHORT. So short, in fact, that your website visitors can read them while skimming. If you do go with the long version, bold the juiciest sentence.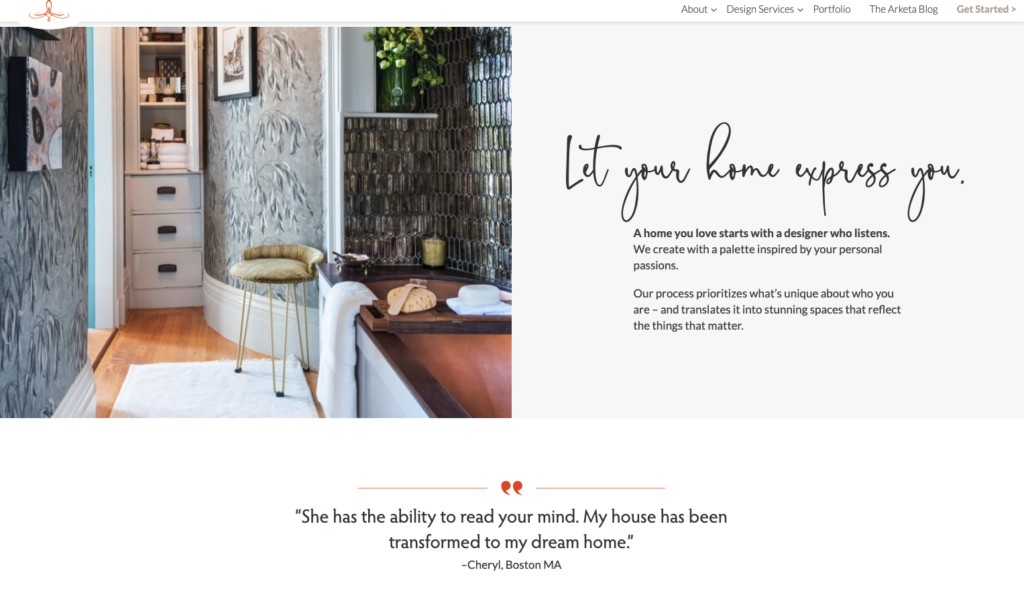 See it on: Vivian Robins Design
#8: Be decisive about driving traffic to your website.
Your website should be a glossy little machine—but you need to feed the machine.
THIS IS IMPORTANT: People don't just find a website. You need a plan.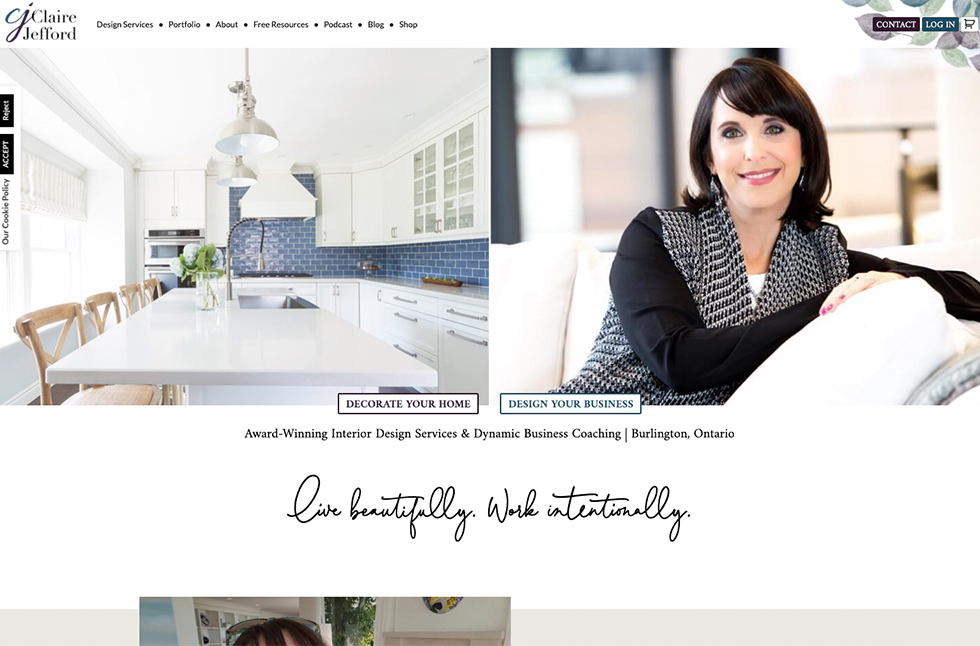 Your plan could be some combination of…
local search engine optimization (to be found via Google search)
strategic social media presence
local networking
email marketing
You can also explore…
digital ads (Google, social media, display ads)
mailers
ads in local magazines
Press features will round out your strategy by building brand awareness, links from high-authority (impressive to Google and humans) websites, and some additional website traffic.
It all works together. But, whatever you decide—you've got to be purposeful. Pick two traffic sources to focus on first and track your results.
TIP:
Decide how you'll track everything. If you're not doing that already, today is a great day to start!
Ask everyone who inquires, verbally and/or through a contact form, how they found you.
Cozy up with your Google Analytics. What is tracked improves. Get into it. It's all a grand experiment.
See it on: Claire Jefford
#9: Be clear about what your design firm does—and where it does it.
Lack of clarity is one of the biggest mistakes we see on interior design websites.
I should be able to answer two questions immediately when I land on your home page:
What service do you provide?
Where do you provide it?
If a visitor has to look for information…honestly, they just won't. The internet has made us all incredibly impatient.
What do you want to be found for? Where do you want to be found? Say it out loud.
TIP:
For SEO purposes, have your developer wrap that information in an H1 tag. This tells Google that the information inside that tag is, essentially, the title and topic of the page.
For example, you might want humans and Google to know that your home page is about "Award-Winning Interior Design / Bellevue" or "Kitchen Design in Raleigh". Put your 'what and where' out into the world.
See it on: Michelle Yorke Design
#10: Make it skimmable.
Ah, the modern internet reader.
We're all buzzy little mosquitos—flying from post to post, from website to website. We quite literally shut down when we see a block of text. It all needs to be spoon-fed in tiny, entertaining little doses.
If you made it to this paragraph, it was probably by skimming. Maybe the headline or the screenshot caught your eye.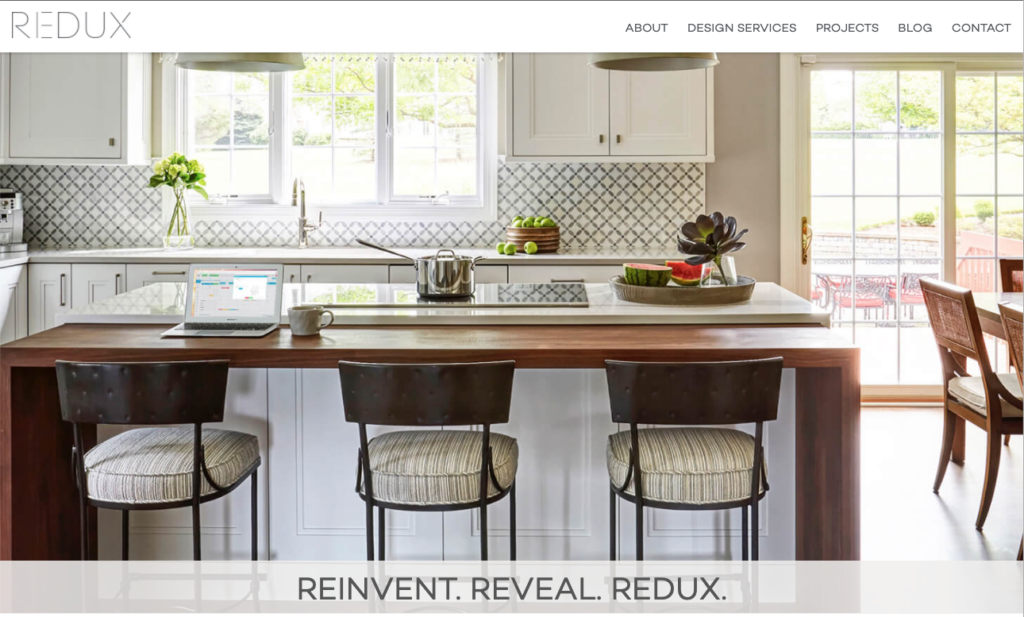 Make life easy for skimmers by adding in headings (in technical terms—H2 headings), breaking up paragraphs (see below), using blockquotes (sections of text in larger type, usually with a different style), and dropping in images.
This is an example of a blockquote.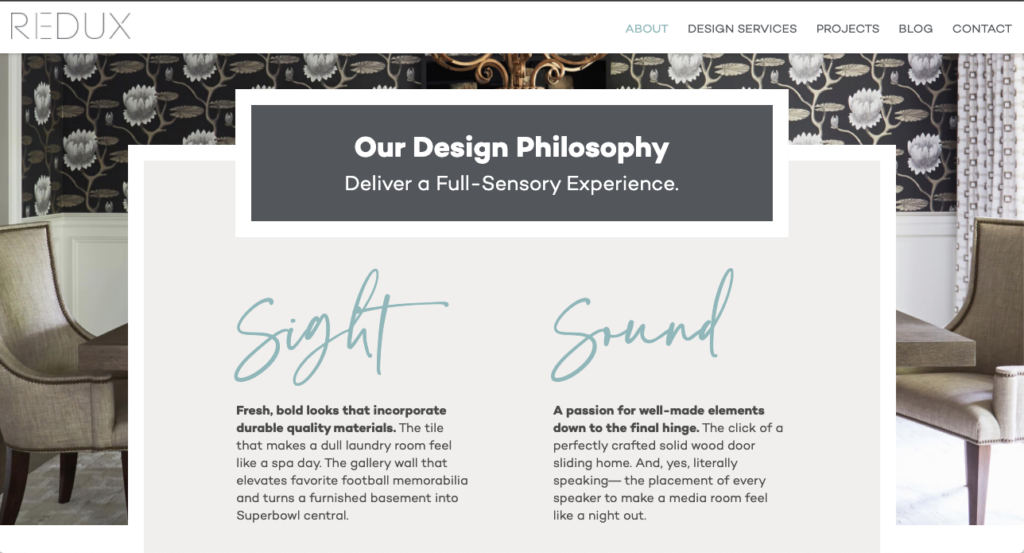 TIP:
To break up your paragraphs into digestible chunks of text, aim for 3-4 lines of copy per paragraph on a desktop device (it will be more on mobile because the screen is narrow) and not much more.
See it on: Redux
#11: Show some personality.
It's worth saying again: People hire people.
But how do you build rapport with potential clients before you've actually spoken with them? How do you begin to form relationships and build some sense of "I know you, I like you, I trust you"…at scale?
By showing who you are. And by "you", I don't mean the literal you. I mean showing who your company is.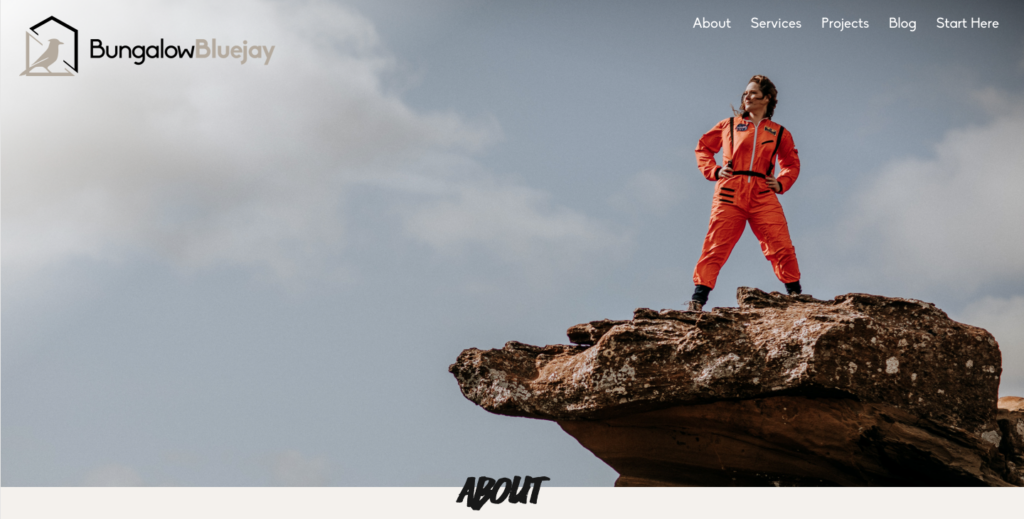 Your design firm should have personality, just like you have personality. And the opportunities to show that personality are endless.
Copywriting: Of course, this is the first thing we think of—the tone of the words on your website and social media.
Visual Branding: Logo, fonts, colors, etc. can (and do, whether you intend it or not) have a personality.
Styling: How are you styling your headshots? How are you styling your project shots? Casual? Formal? Quirky? Cozy?
Welcome Packet: This little guy has so much important information…and so many opportunities for personality and specificity.
And so much more. It's about looking at every touchpoint.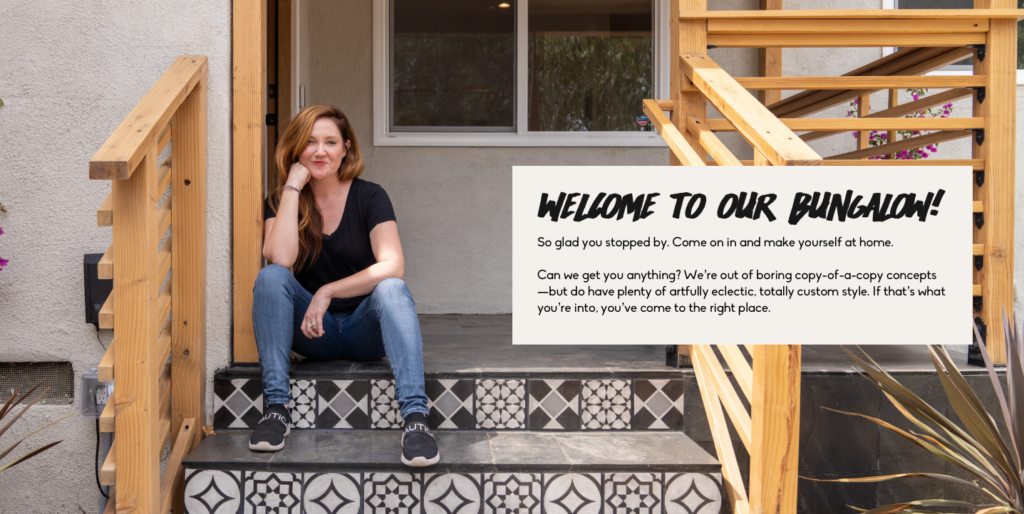 TIP:
Don't forget the details! The confirmation email for your email list signup. The 'thank you' page after they submit a form. The out-of-office email. These are all excellent opportunities to inject brand voice into moments that are typically…just drab.
See It On: Bungalow Bluejay (Launching Soon!)
COMMON QUESTIONS
What platform should be used to build an interior design website?
If you're looking to grow your business over time—and add functionality over the years—you'll want to consider WordPress. We build our websites in WordPress because it is open source, which means we're not limited in the functionality, styling, etc. The sky's the limit, as they say.

What pages should be included on an interior design website?
It depends on your business model, but always the basics: Home, About, Services, Portfolio, and Contact.

Beyond that, you may want to consider a blog (so flexible! just one article per month, when optimized well and created thoughtfully, can work to demonstrate your expertise and help your search engine optimization) and an FAQ page (another opportunity to feature the things that make you special).

A testimonial page is optional. You're better off sprinkling the best ones all over your website…on pages that people tend to visit more often.
How much does an interior design website cost?
It depends! Like a piece of furniture, a website can be custom, semi-custom, or you-get-what-you-get. A project can include copywriting, search engine optimization, all kinds of email marketing integration, proper Google Analytics setup, shopping cart functionality, logo design…and more. Long story short, it depends on the scope.

(If you want to get more specific about a website for your interior design firm, please feel free to book a call!)
Beauty + Function
An interior design website is about more than beautiful photos.
It needs to be found by the right potential client. It needs to be easy to navigate. It needs to offer a low-stakes way to stay in touch when they're not quite ready to start their project.
And yes, interior design is special. It's a unique service for a unique target client—but it's also important to remember that the essential rules of marketing and website user experience do apply.
Just like a well-designed interior—your website should be a perfect pairing of beauty and function.
Looking for assistance? Choose a service or book a chat to discuss options.